Cheryl Conrad-Bare – Alum '99 and '86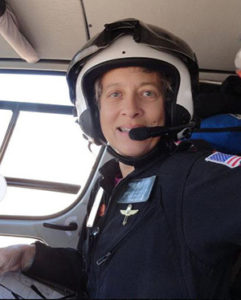 "Service, dedication, perseverance, growth through opportunities – Cheryl has them all! She is living testimony to Sheridan College's Core Values of Respect, Integrity, Excellence and Learning…" explained Mary Jo Johnson, when speaking about her friend and Sheridan College alumna Cheryl Conrad-Bare.
Always confident, talented, and a natural leader, Cheryl has led quite an interesting life.  She originally graduated Sheridan College in 1986 with a Certificate of Practical Nursing, and after graduation, practiced for twelve years as a Licensed Practical Nurse.
As an LPN, Cheryl worked at the VA in Sheridan, where she earned multiple Nursing awards including the VA Secretary's Award for Excellence in Nursing. She also worked as a Substitute Teacher and Accompanist for Sheridan County schools, which fed her passion for teaching and music. She spent  some time working toward a Music Education degree at the University of Wyoming, but was side-tracked before she was able to complete her degree.
Not satisfied with her LPN degree, Cheryl returned to Sheridan College in 1999 for her AAS in Nursing. During this time, Cheryl was a single parent, and did not have any free time. She said "There was a lady at Sheridan College at that time who wrote for and successfully obtained a grant to help two or three of us out with childcare and fuel for Clinicals. She was a godsend!"
Of her time in Sheridan College Nursing Program, she stated "Trudy, Judy and Robin (SC instructors) were all a huge part in making me believe I could do this – they went out of their way to provide pertinent clinical experiences beyond the norm since I had been an LPN for 12 years before I went back to school.  They deserve a lot of credit for that. They definitely have my unending gratitude."
Cheryl thrives on excitement, and coming out of school in 1999, she sought out work in Emergency medicine and Intensive Care units. Over the years, she transitioned to becoming a surface transport RN for Rocky Mountain Ambulance Service, and following that, a flight nurse, first in the US, and then overseas.
She also became a certified instructor for Emergency Medical First Responder, Paramedic, Advanced Cardiac Life Support, and various other high level courses. She taught full-time for a while, but now only teaches when needed – and when she is in the country.
Today, Cheryl travels the globe for her job as a Flight Nurse for Global Medevac. She has worked in multiple countries including Germany, Kyrgyzstan, Turkey, Jordan, Qatar, Honduras, Thailand, and India.  Throughout her career, Cheryl has racked up numerous honors and accolades for excellence in her field.
Of her career she says "My restless, wandering soul has led me down some interesting paths. I've been fortunate to have met some amazing people and am so privileged to have friends who literally span the globe and who have stayed in touch."