Brett Burke: Sheridan College Alum '10 and current SC Agriculture Faculty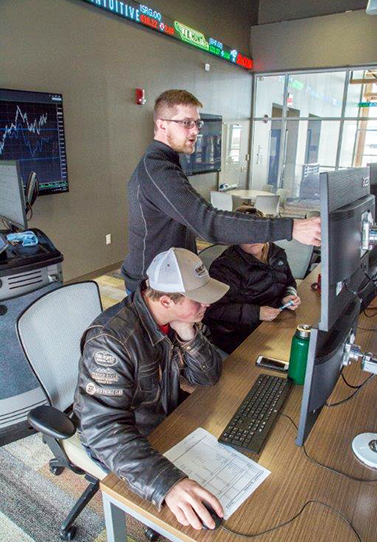 Brett Burke's journey has taken him almost full circle. He grew up in a small, remote town in South Dakota, on the family farm. "My elementary school was a one room schoolhouse, with multiple grades being taught by one teacher. In high school, there were 38 students in my graduating class."
As a junior in high school, he came to Sheridan College to compete in the annual Border Wars against other high school students in the region. In the Border Wars, hosted by Sheridan College, FFA (Future Farmers of America) students compete in categories such as Agricultural Sales, Farm and Ranch Business Management, and Environment and Natural Resources.
Brett came in first in his category, the Agricultural Sales Competition, and was offered a full tuition scholarship to attend Sheridan College.  After an injury ended his hopes of playing collegiate football, he accepted the Border Wars scholarship and a Sheridan College Rodeo scholarship and enrolled in SC's Agriculture Business program.
Even coming from such a small hometown, it was a fairly easy transition to go to college in Sheridan.  Brett enjoyed the community atmosphere at Sheridan College. He said "I knew everyone on campus.  We attended all the athletic events together. Anytime anyone did anything, everyone would join in."
He also enjoyed the town of Sheridan. "Everyone was always ready and willing to help me," he explained.
Following graduation from Sheridan College, he enrolled at New Mexico State and earned his Bachelor's degree in Agricultural Business and Economics, while continuing his to rodeo his final two years of eligibility.  He subsequently earned his Master's degree in Business Administration from New Mexico State.
The timing was fortunate, because at the same time that Brett was searching for a job in this region, Sheridan College was looking to expand and improve its Agriculture program. He was hired and charged with the task of taking the Agriculture program to the next level.
He took to his new responsibilities with gusto, including a lot of hands-on, real life experience in his classes. He explained, "Anything I do in the classroom has to be relevant to the students. If I cover something they believe is irrelevant, they are not going to learn it, and it will be a waste of all of our time."
Brett was instrumental in the design of the commodities trading room in the new Mars Agriculture building. He researched trading rooms at other facilities and combined the best qualities of each to create the trading room at Sheridan College.
He explained, "We are blessed with state-of-the-art facilities here at Sheridan College. Students graduate with invaluable, real-life experience and are ready for the next step, whether it is more schooling or a career."
Brett has enjoyed the opportunity to develop the Sheridan College Agriculture program and loves being back in the community of Sheridan and Sheridan College.
"It is nice to be able to be in a position to help students, like the people of Sheridan helped me when I was a student here. It sure is nice to be able to give back to the community that gave me so much!"