Barb Williams – 2016 Distinguished Alum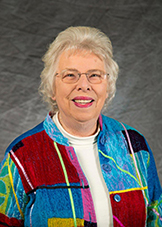 Sheridan College President Dr. Paul Young announced his approval of the Sheridan College Alumni Committee's recommendation of Barb Williams as the 2015-2016 Sheridan College Distinguished Alum.
Co-nominators Erin Nitschke and Matt Hammer stated,
"It is with great pleasure we nominate Barb Williams. Barb, known to many as the 'Dome Mom', is an individual who has continuously and tirelessly devoted her personal and professional life to Sheridan College. Being able to work directly with her in the athletic department, we are amazed at the daily impact she has not only on the other employees of Sheridan College, but more importantly the young students that call this campus home. Her positive energy and enthusiasm for this school is both infectious and extremely admirable to the people that are lucky enough to be around her."
Barb started her education at Sheridan College in 1958 focusing her studies on business. While attending Sheridan College, Barb was heavily involved with Student Senate and Phi Theta Kappa. Thirty-six years later Barb began her career at Sheridan College in the Continuing Education department as an administrative assistant. Barb transitioned to the Business Office in 1989 where she remained until 2009 at which time she became the administrative assistant for athletics and student life. Barb taught various continuing education courses and provided in-house trainings during her employment history.
Barb's commitment to her employment at Sheridan College transcends beyond her assigned duties and job description; she has always enjoyed sharing her enthusiasm for Sheridan College by being involved in a variety of campus-wide activities and committees. She has been a long-time supporter of athletics and the arts; volunteering her time to take tickets at games, manage and organize fundraisers, assist with and star in college plays and represent Sheridan College on the annual softball team. Barb also served as Staff Council president for several years. Gene Sager says, "Barb Williams is truly a more than a "woman for all seasons" she is "woman for all reasons" Barb is truly a remarkable person. It has been a joy working with her on and off the stage for the past 18 years."
Barb's passion for life and learning goes beyond Sheridan College. Barb was actively involved in the Sheridan County YMCA from 1965-1979, served as a board member for the Sheridan Recreation District, and committed time to many humanitarian efforts including the Alzheimer's Support Group, MS Walk, and the Wyoming Special Olympics.