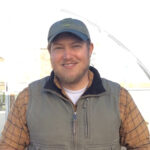 Bored and looking for adventure, Adam Bunker left his home in Albuquerque in 2008 to go backpacking in the Rockies. Little did he know he would end up growing produce in Sheridan, Wyoming!
As part of his original travels through the Rockies, he decided to visit his aunt Cheryl Harrelson in Sheridan. She asked him to do a few odd jobs while he was there. A week's visit turned into months as he stayed on to help Cheryl in her business, Steady Stream Hydrology, as a surveyor.
Realizing his potential, Cheryl convinced Adam to enroll at Sheridan College to get a higher education degree. Adam had resisted going to a four-year university due to the high cost, but Sheridan College was a much more economical and practical option. With scholarships and few loans, he started his educational journey, deciding to live on-campus.
"I had a great education at Sheridan College. There were people from all kinds of backgrounds, and I felt that I got the same experience that I would have had at a four-year university. I was able to take all kinds of classes that gave me a really broad education."
After graduating Sheridan College with an AS in Biology, Adam took a job with Melissa Butcher at PB Communications learning the ins and outs of marketing and public relations. Still looking for something more fulfilling, he joined Joe Wesnitzer of Papa Joe's Produce to help him with branding, marketing and developing his hydroponic produce growing business. Recently, he has taken a more hands-on approach with the actual growing of the farm fresh produce.
"Twelve years ago I came to Sheridan with no idea of what to do with my life, looking for a way to make a difference in the world. Now I feel like I have found what I was looking for. I am feeding people with farm fresh produce, the money we earn stays local so we are helping the local economy, and I am volunteering time supporting local food systems through the Wyoming Food Coalition."
Asked if he had any advice for current Sheridan College students, he said "Try different things. You don't have to figure things out right away. I was a carpenter, worked in retail, public relations, and web design and ended up using all of that experience to end up with a career in agriculture."
For Adam, what had started as a backpacking trip through the Rockies twelve years ago ended up with him finally finding what he was looking for in a little business in Sheridan called Papa Joe's Produce.